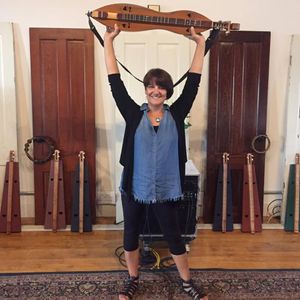 Bio
At the age of 10, Carolyn received the gift of music from her grandfather Rocco.  A guitar. She quickly found chord charts and has been playing ever since. In 2012 she started playing the mountain dulcimer which lead to her work as a therapeutic musician in 2016. It didn't take long for people to take notice of her ability to play and teach the dulcimer, and in 2017 she began teaching at dulcimer and music festivals in Connecticut, New York, Pennsylvania, and Vermont. Her 2018 open stage performance at Western Carolina University's Dulcimer U, earned her "Most likely To become a famous musician" by the university instructors.
An accomplished performer and singer/songwriter, her voice has been described as having the richness and power of Joan Baez and Natalie Merchant, and the rootsy soul of Jillian Welch and Iris Dement.  Four of her original songs have been featured on the music sampler of Dulcimer Players News (DPN), a quarterly journal for dulcimer enthusiasts around the globe. Her essay about her work as a therapeutic musician, "Reflections of a Certified Music Practitioner", appeared in DPN, and ECHOS, a literary journal published by St. Francis Hospital. In 2020,  the music video of her song, "Hands", inspired by her work at St. Francis, received a Telly Award for Excellence. https://www.youtube.com/watch?v=PeWxFzoDiRs
When she's not playing healing music at the bedside, or teaching dulcimer privately and in group workshops, Carolyn is performing with her band Seat Of Our Pants, contributing vocals, guitar, dulcimer, mandolin and ukulele to their Americana sound. (https://seatofourpantsmusic.com) When COVID hit, ironically, her musical world expanded. She taught herself to play the harp, an instrument that had been on her bucket list. Also,  as a weekly song leader in Pat Clark's Send In The Music Virtual Jam, and co-host of Sally Roger's monthly Quiet Corner Song Swap on Zoom, her music is heard across the U.S. and beyond. 
A regular in the recording studio, Carolyn has production credits on 7 CDs.  3 with Seat Of Our Pants,  a solo CD of lullabies, "Little Hands", 2 benefit compilation CDs, and a relaxation CD created for St. Francis Hospital which included a soundtrack of her original dulcimer music.
 Take a listen as Carolyn talks about the dulcimer, her band, and therapeutic music on an episode of the Table to Stage Podcast. https://www.youtube.com/watch?v=KQuo4dTQQ5Q